Sunny and 61°F. Light wind.  

I started out wearing a jacket, but that was soon gone. It turned out to be a gorgeous day! We had gotten a little rain (< 0.25″) in previous days so I was hoping there would be some plant activity. Sadly, I didn't see any little green shoots coming up, or fungus, but there was definitely less dryness in the air.
I hiked to the creek crossing and decided to go through the Osage Orange forest to see if there were morel mushrooms coming up. Again, no luck. I guess my spring fever is a bit early.
When I came to the alternate creek crossing, I decided to give up on greenery and see if there were any new animal tracks. Yes! The first set I saw were nearly perfect and from a squirrel. I love how you can even see the tiny dots where its claws gently touched the mud. Looks like this little guy just stopped and was lifted off the ground. Probably something a lot less dramatic happened in real life.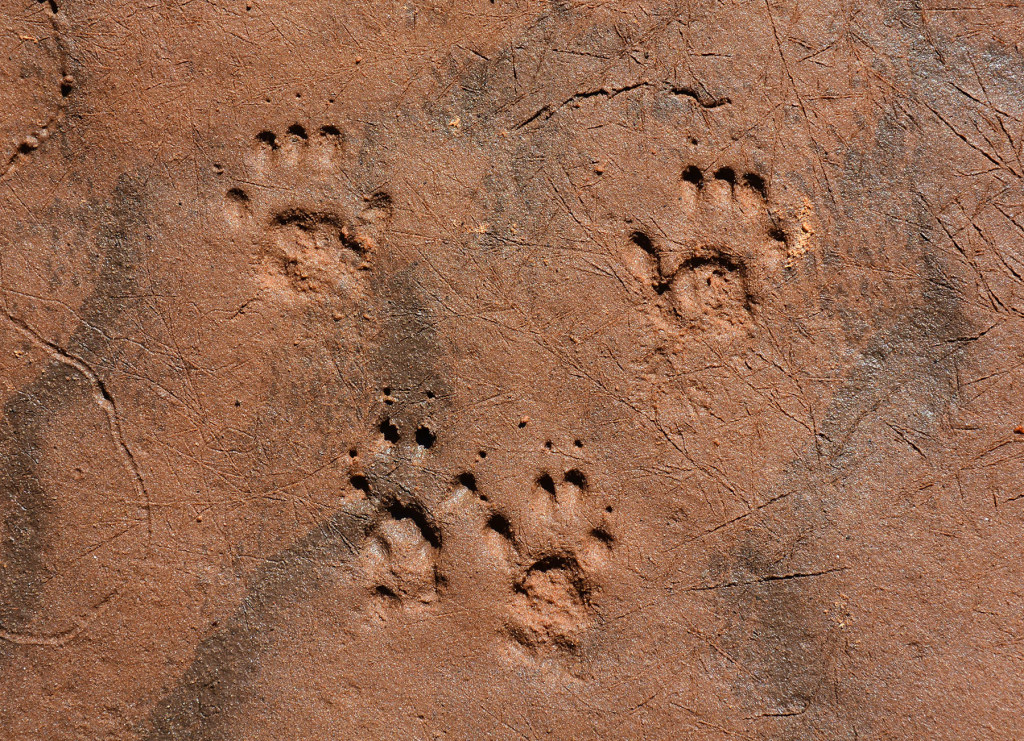 I walked on and saw a tail drag mark that stretched all the way from the woods to the creek. I had never seen this print before. It looks like the animal has three toes and only two feet by its strange track. I researched it when I got home and guessed it was an armadillo – Bear-tracker.com confirmed this for me! There is also a squirrel print on the top right part of this photo. I'm so happy for the small amount of rain we got, it provided a clean slate to see new tracks.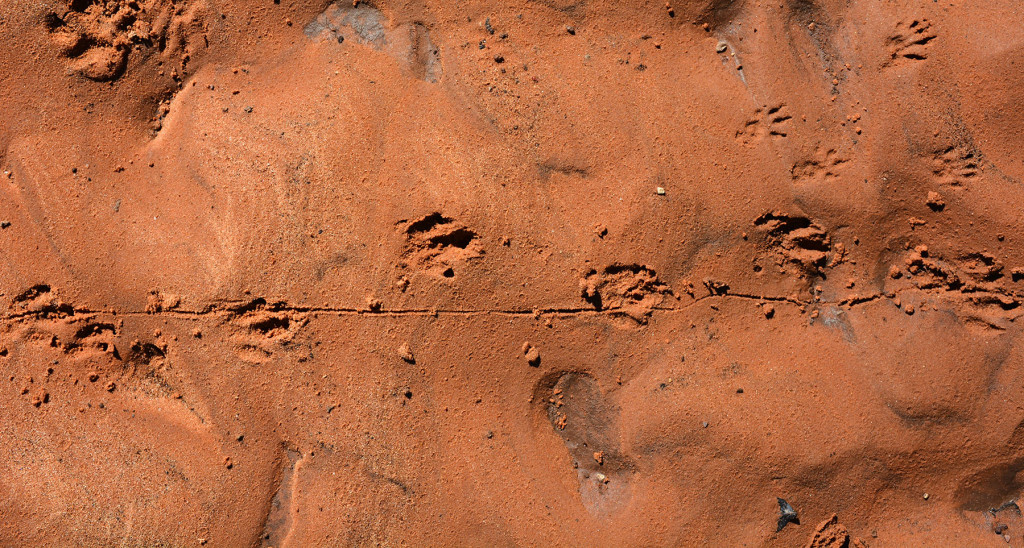 Another interesting item I found in the creek was half of a lower jaw. I believe it's from a horse. It  looks like a fossil to me.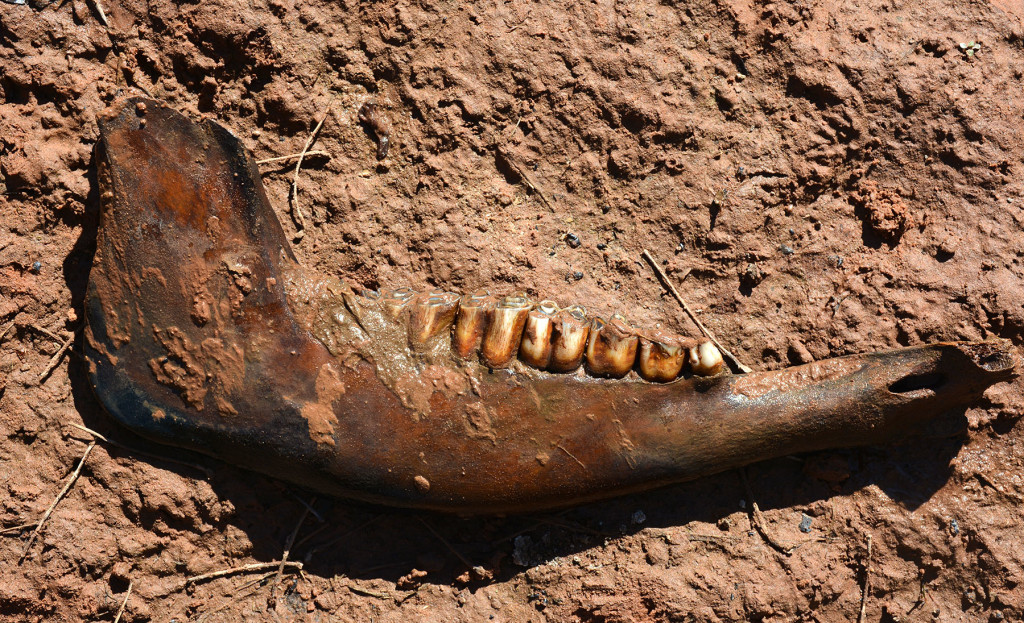 The teeth were very interesting, I love the shapes they grow into.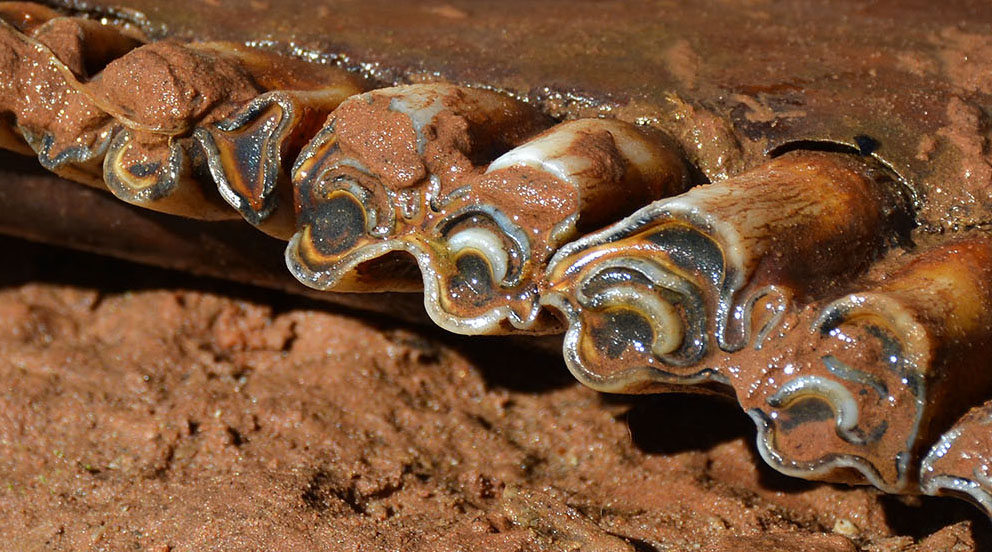 I was at my turnaround point, but it was just too nice to head back. I sat on the sand and watched the little birds drink from the creek and the hawks fly by. These are some happy boots!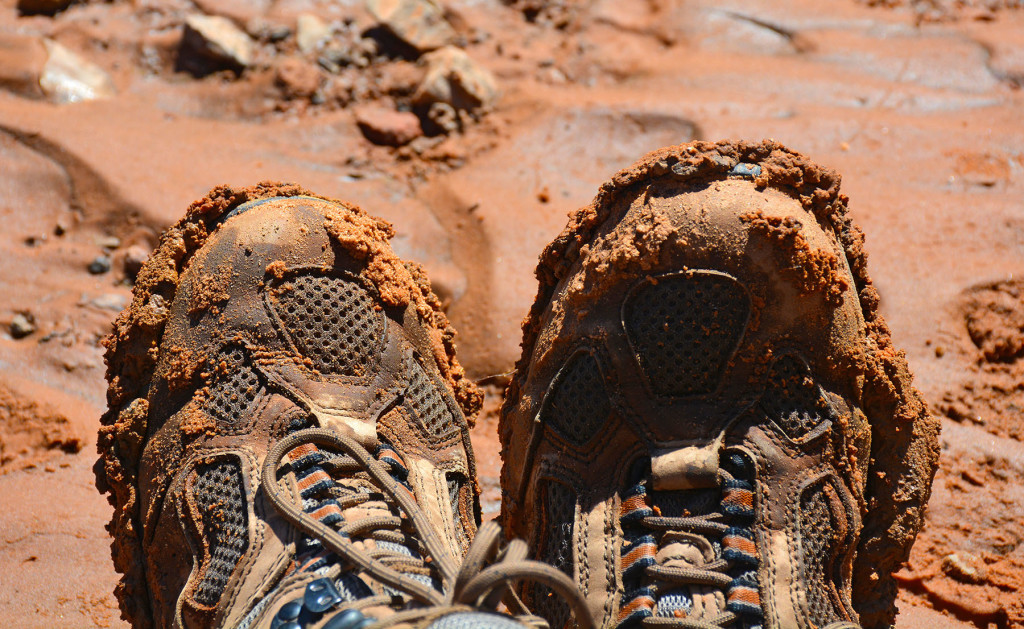 I didn't take any more photos on the way back to the car. I decided to check out the Arcadia Conservation Education Area on the southwest side of the lake on the way home. There was walk-in only access and no parking. Not very welcoming. It looked like they had just poured a small parking area and had a walkway ready to pour. I'll come back and check it out another day.
I headed home and caught sight of a Roadrunner! Dad and I had seen one on the I-35 access road a couple months ago but couldn't pull over. In all my years, I have never seen one in Oklahoma. I was shocked to learn they live here. Dad acted like they were very common and wasn't too excited. I got excited and stopped immediately today! I tried not to scare the bird. It didn't really seem to mind me being there, but kept an eye on me.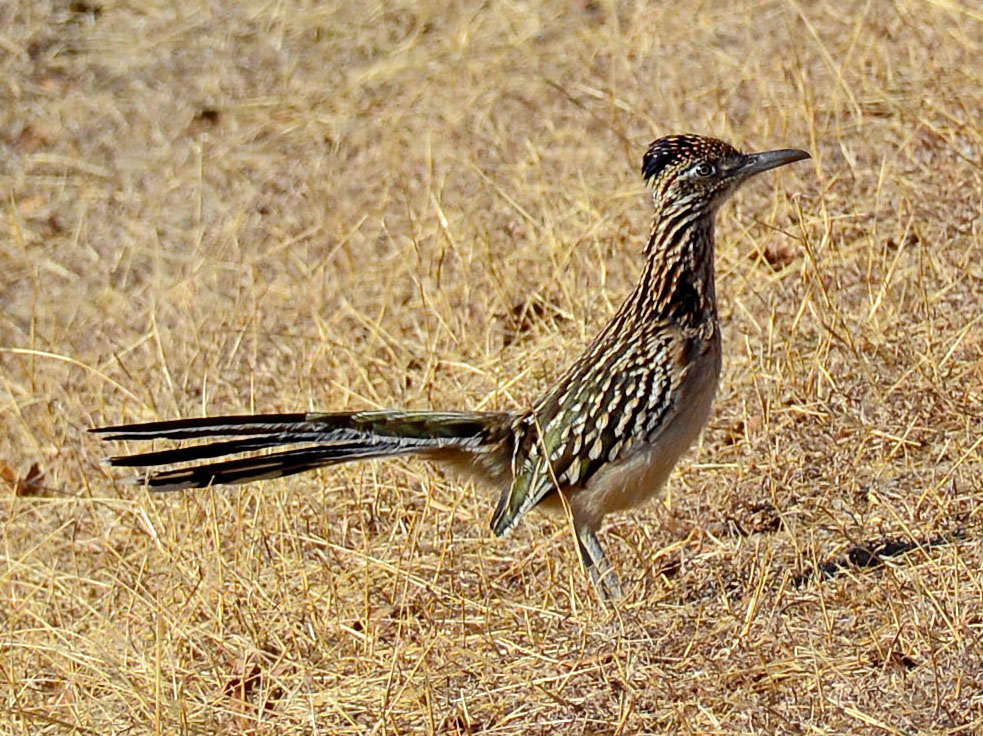 It put it's crest down which made it look very different.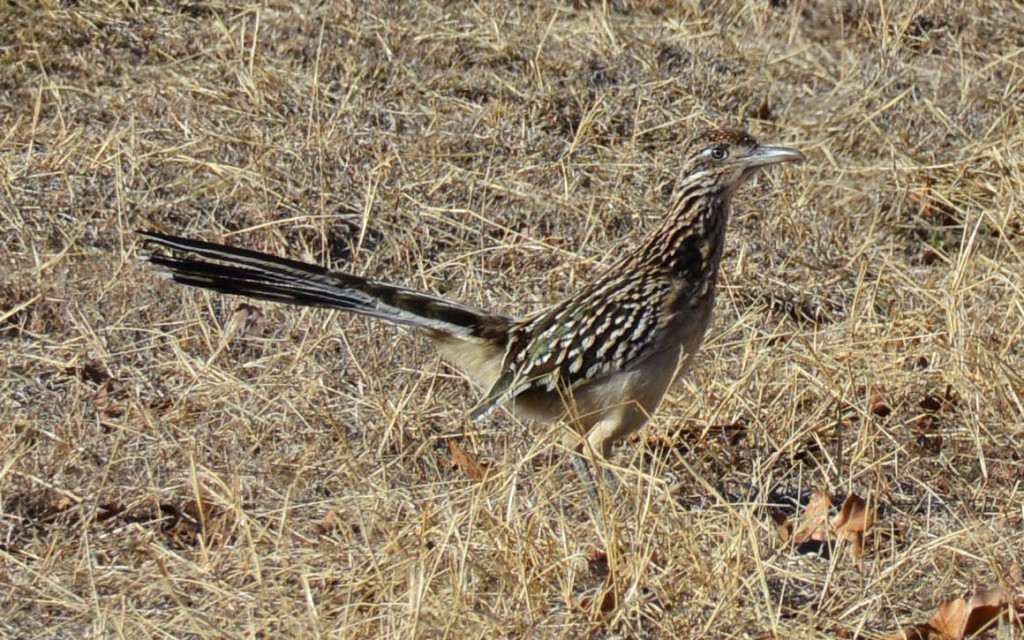 The Greater Roadrunner is  a large terrestrial cuckoo. They eat things like small mammals, reptiles, frogs, toads, insects, centipedes, scorpions, and birds. They can kill a rattlesnake and pluck a hummingbird out of the air. I'd have to see it to believe it. Maybe that is why it wasn't afraid of me or my car, pretty tough bird. You can see a bit of color behind its eye in this photo.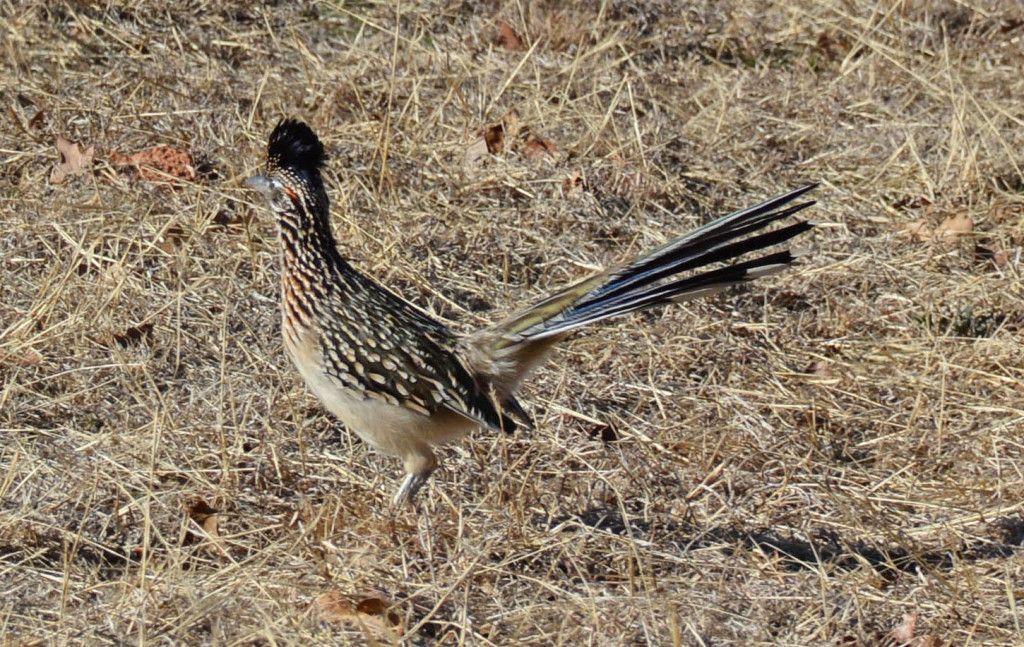 And for the classic roadrunner shot.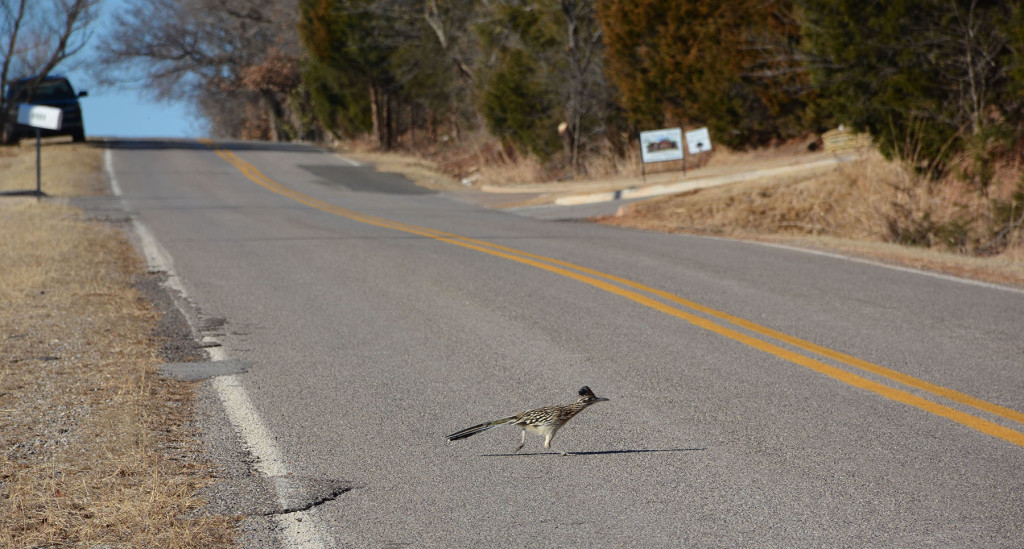 The little scamp showed me it's backside and gave me the stink eye. I'm a fan of the Greater Roadrunner now!